Our History
---
"Loving people through food. The Novaks, that's us."

-Karen Novak
---
Joseph and Matilda Novak (Papa and Mama) came to the United States from Hungary in 1957. Together with twin daughter's Karen and Matilda they opened the original "Novak's Hungarian Paprikas" in April of 1984. As Mama and Papa were both quick to point out, all their children and many other family members have contributed, including various nieces, nephews and even grandchildren.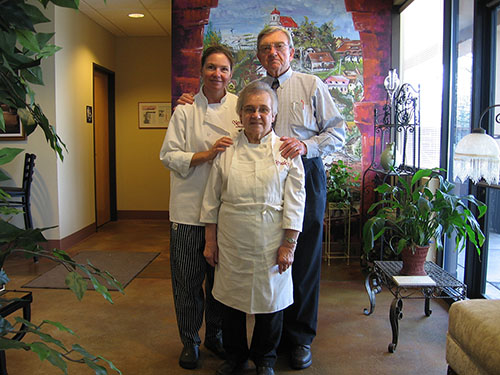 These days you'll find the twin sisters Karen and Matilda running the show, but Mama and Papa are still very much remembered in the day to day operation of the restaurant.
Over the years we've been blessed with a loyal following and have garnered the recognition of food lovers ranging from "Northwest Best Places" to "Bon Appétit". Chicken Paprikas remains a signature dish and since 1988 we have been known simply as Novak's Hungarian Restaurant.

Whether this is your first visit with us or you're a long time "member of the family", we thank you sincerely for coming to Novak's.
Our Philosophy: Going Smaller & Going Local
To decrease our environmental footprint and take our emphasis on local sustainability to another level we:
Have our own version of urban gardening with a hydroponic garden tower that produces fresh greens and herbs that are used in the restaurant.
Source our food locally – almost all of our food is produced within an hour of our location.
Cut our own meat. Render off the fat to produce oil from local GMO free animals and use that in our recipes.
Have a local farmer producing eggs just for us.
Support locally grown and support Novak's restaurant.
Our Address:
208 SW 2nd Ave, Albany, Oregon 97321