WELCOME HOME!
Enjoy your dining experience at Novak's
KöSZöNöM. (Thank you for coming).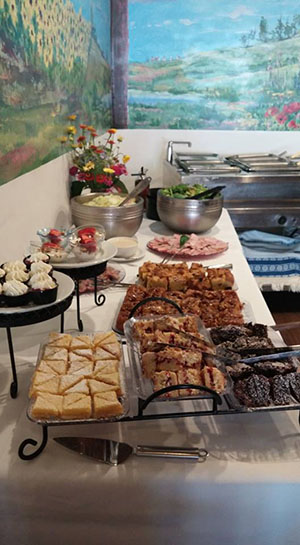 The Novak's Hungarian Restaurant menu offers breakfast, lunch and dinner featuring authentic Hungarian recipes using locally sourced ingredients whenever possible.
Click here to read more about more about "Our Philosophy: Going Smaller & Going Local".
To view the menu click on the links below or use the menu tab above.
RESERVATIONS STRONGLY ENCOURAGED FOR:
Lunch Rush (12pm-1pm)
Dinner Rush (6pm-8pm)
All day Saturday
WEEKLY & DAILY SPECIALS
MONDAY'S:
Grab & Go Special: Regular coffee & Cinnamon Roll for $5.00 from 7:30am until we sell out
After 3pm all sliced cakes $2.00 off
THURSDAY'S
SATURDAY'S
Add Pancakes or Single Crepe to any Breakfast for $2.00 (Note: Pancake and Crepe filling specials rotate)
SUNDAY'S
Our famous Sunday Brunch Buffet is available 10am – 2pm (Buffet will re-open as soon as we can)
SOUP OF THE DAY
Monday: Hungarian Spicy Cabbage
Thursday: Green Bean & Spaetzle / Sweet Pea & Spaetzle
Friday: Hungarian Style Potato Soup
Saturday: Chef's Choice
---
PLEASE NOTE:
There is an 18% gratuity will be added to any party of 8 or more.
See in-house menu for current prices.
There is a credit card fee applied on all credit card/debit transactions.
We encourage everyone to use cash to help us keep our prices as low as possible.
Menu prices are cash prices.
---
Take a virtual tour of Novak's Hungarian Restaurant