We are OPEN for IN-Dining Room Seating
Some changes to be aware of:
We have limited seating to maintain social distancing.
Limited to 24-32 seats, changes based on day of the week and time of day.
We Highly Encourage groups of 4.
Take out orders must be ordered and prepaid by 5:00 pm.
We will not be taking any to-go orders after 5pm.
You can still pick them up at a later time but they must be ordered by 5pm.
If we are at full capacity a sign will be posted out front
Please use the clipboard on the sign and write down your name, number in party, and cell number and when a table opens up we will call you.
Please do not stand in the doorway and wait for the next table.
We encourage you to look thru all the wonderful shops along 2nd Ave. as you wait.
Please understand it takes extra time to turn the tables
It is necessary that we sanitize the table, chairs, menus, salt and pepper shakers etc.
Please be patient.
Weekends will Require Reservations.
(Friday evenings by 4pm and All day Saturday)
We typically are VERY busy on the weekends and to accommodate our customers the best we can, Reservations will be necessary. PLEASE CALL AHEAD - 541-967-9488.
We are also new to these different circumstances and may try several different things to see what best works for us.
We thank you for your flexibility as we try to find the most efficient methods
for us to BEST SERVE YOU!
For Reservations and Take-out orders call:
541-967-9488
For further information you can visit our updates page here and on our Facebook Page here.
Loving people through food... since 1984

Joseph and Matilda Novak (Papa and Mama) came to the United States from Hungary in 1957. Together with twin daughters, Karen and Matilda, they opened the original "Novak's Hungarian Paprikas" in April 1984.
We've refined both the menu and the restaurant, but the same Love goes into everything we prepare with the finest quality ingredients fresh every day. Whether this is your first visit with us, or you're a long time "member of the family", we thank you sincerely for coming to Novak's.
Novak's features authentic Hungarian cuisine in a beautifully restored 100-year-old building in Old Town Albany, Oregon.
We are located at: 208 SW 2nd Ave, Albany, Oregon 97321
Restaurant Hours
Monday:
11:00am - 7:00pm for Lunch/Dinner
Tuesday & Wednesday: Closed
Thursday:
11:00am - 7:00pm for Lunch & Dinner Only
Friday & Saturday:
11:00am - 8:00pm for Lunch & Dinner Only
Sunday: Closed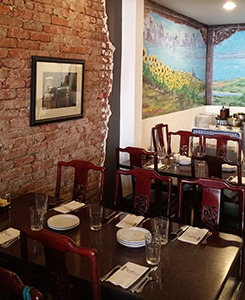 Shop & Bakery
Our Shop:
Books, Spices, Specialty Mixes.
Our Hungarian &
European Style Bakery:
Features homemade baked goods including fresh baked bread, pastries & European desserts.
Catering
We're pleased to be able to offer separate banquet facilities and a wonderful new catering menu, along with fresh baked specialty breads and more pastries than ever!
---
Click here for more information
Reservations
Reservations are highly recommended for dinner and all day on the weekends. Novak's features European Family style seating during these peak busy hours. For Reservations call: 541-967-9488
---
Click here for more information
Enjoy your dining experience at Novak's
KöSZöNöM.
(Thank you for coming).